Have more fun with your friends and family…
All in one place!
Westgate Entertainment Center is home to 5 unique attractions along with our traditional family fun bowling and great food options.
You can have a great time with prices that won't break your family's budget. We have 24 Brunswick synthetic lanes and 6 wood lanes. All of our lanes have bumpers available to   keep the bowling balls out of the gutters and smiles on the faces of your small children. And ramps are available to help get the ball down the lane.
We also have our COOL Thunder Alley where you bowl with the lights down – great music turned up and awesome special effects lighting…it looks like a nightclub!
When looking for family fun in Lima look no further than Westgate Entertainment Center!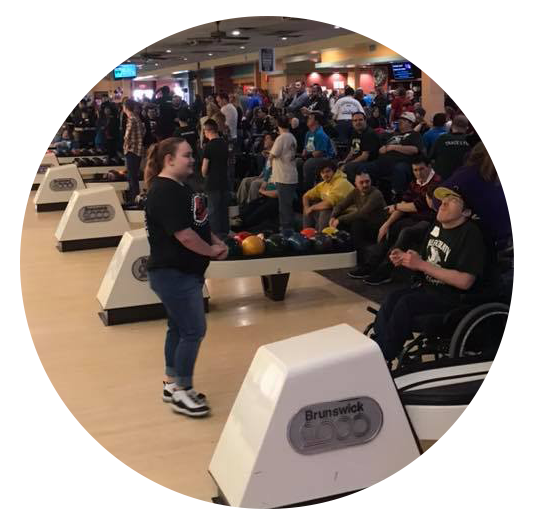 Team building, Corporate Olympics or even an ofice party. Westgate Entertainment Center can cater to businesses of all sizes. We handle the planning so you just have to show up and have fun with your team.
The place to go for your entertainment!
Our unique attractions provide entertainment for people of all ages. Bring the kids out for a fun night of bowling and arcade play. You can reserve our most recent attraction, Back Alley Axe Throwing. No matter what you choose, stop out and make memories with your friends and family.
Parties can be frustrating and time consuming to plan. Let us take that off of your plate. Our amazing staff is ready to get to work planning your next event. We plan and cater all types of events. Planning a childs birthday? We have you covered! Looking for a unique idea for your employees? We got you! Give us a call today to get started on your next event.
Westgate has been serving up Lima's finest pizza since 1958. Our dough is made locally and rolled fresh daily. Our menu doesn't just stop there, we have gourmet burger options, wraps, salads, sides, starters, desserts and even a breakfest menu that is served all day long. Stop in or place an order for pickup today!